Transforming Barnes-Jewish Hospital's Plaza Entry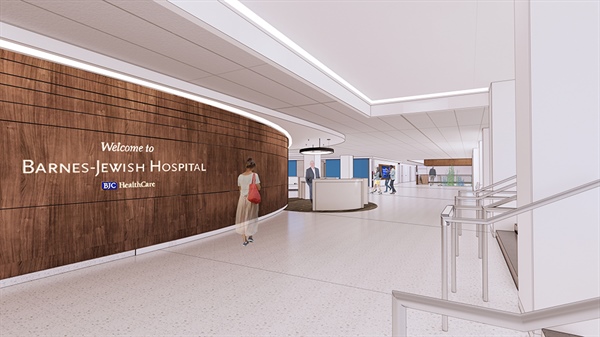 May 2022 -
A perhaps little-known, but big impact component of BJC's Campus Renewal Project is what the project team has titled the Plaza Entry Project.
The 3+ year project will include a complete transformation along Barnes Jewish Plaza, including a new lobby in the garage and pedestrian bridge, new and expanded drop off, and renovated and expanded street and main level lobbies. Exterior work starts in June, followed by interior work next year.
The project is being phased to minimize disruption to patients, families, team members and physicians. We will communicate each stage of construction and the impact prior to work starting.
Visit bjc.org/construction to stay up to date on information and to see videos, renderings and photos of the project.
Arriving at Barnes-Jewish Hospital
Turning onto Barnes Jewish Plaza, visitors will see the redesigned and renovated Plaza Garage lobby on the right, new pedestrian bridge overhead, street and main level lobby additions along the East-West Pavilion, and re-designed drop off/valet.
Pulling into Drop-off/Valet Lanes
Visitors and families dropping off and picking up patients at the new entry will enjoy an expanded, landscaped drive with a new, welcoming entry canopy at the street level lobby – a look and feel consistent with Parkview Tower.
Entering the Street Level Lobby
Patients and visitors entering at street level will pass through a vestibule into the new glass-enclosed multi-story lobby addition with abundant natural light. A monumental staircase and three new glass elevators will connect the street and main level lobbies, replacing the two existing elevators and escalator. Wood walls, similar to Parkview Tower, will create a welcoming and inviting environment.
Parking in the Plaza Garage
New pedestrian lobbies at every level of the garage are designed as an extension of the hospital lobby – a warm and inviting experience. Four new and more efficiently elevators will replace the two existing elevators and escalator. A multi-story light well will bring natural light onto each floor of the lobbies, enhancing the welcoming atmosphere.
Walking Across the Bridge
A wider, more accommodating pedestrian bridge will span Barnes Jewish Plaza between the Plaza Garage and main level lobby. Extra care has been taken to ensure a comfortable year-round interior environment while maintaining a light-filled connection. The bridge design also is an extension of the lobby and helps re-enforce the feeling of arrival to the medical campus.
Entering the Main Level Lobby
The renovated main level lobby will feature a bright, modern palette, replacing the dark, marble finishes. A custom seating area will replace the fountain and serve as a landmark. A prominent information desk will help orient visitors and guide them to their destinations. Reimagined donor and history elements will honor Barnes-Jewish Hospital benefactors and historical contributions to the medical field and community.
Enhancing the Patient/Visitor Experience
Along with a more welcoming design, the lobby will feature new and renovated amenities.
A relocated and expanded coffee shop will provide additional services and ample seating with natural light and views to the outdoors.

A renovated gift shop will have expanded retail offerings, flower shop, and an updated design.

The Heart and Vascular Resource Center, servicing all those being admitted to the new bed tower, will receive a new prominent location for expanded services to welcome and educate patients and their families.